The Limestone County Chapter is involved in many different activities. The mission of MADD is to enforce effective and workable solutions to the drunk driving problem and to assist the surviving victims of drinking and driving.

MADD uses preventative measures like community awareness and education to help save lives, such as speakers, community events,media coverage, open meetings, literature, impact panels, and web sites to get this information out to the public.

MADD also assists victims of drunk driving. They provide the emotional support that only people who have already been through the same situation can provide,referrals to other agencies, and knowledge about the court process.

MADD also keeps up with the current legislation, in order to let our congressmen know how we feel about the current laws dealing with drunk driving.

The Officers of the Limestone County Chapter of MADD are:

President: Marcella Coblentz

Vice President: Tracy Daniel

Secretary:Penny Borunda

Treasurer:Helen Vinson

Victim Advocate:Glenda Richardson

Here are but a few of the activities of the Limestone County Chapter of MADD......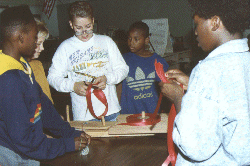 6th graders help make red ribbons for the Project Red Ribbon.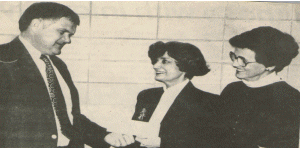 Athens Police Chief Wayne Harper accepts a $930 check from Glenda Richardson & Julia Scherff representing Limestone County Chapter of MADD to help fund video equipment that is used to assist the Police in filming drunk driving suspects.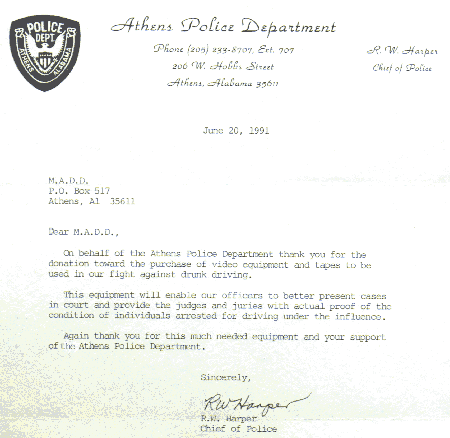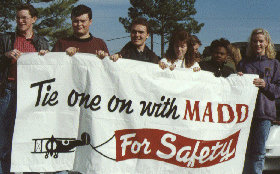 SADD gets ready for the local Christmas parade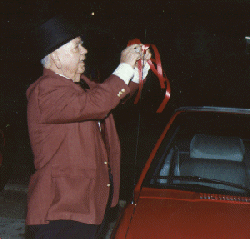 Tie one on with MADD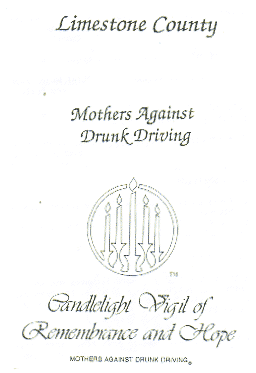 One of the flyers from the candlelight vigil held by Limestone County Chapter of MADD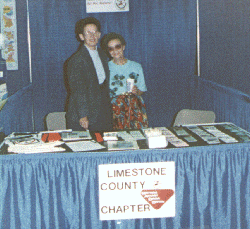 Julia Scherff and Almeta Irwin at the MADD booth at the Limestone County Chamber of Commerce Fair
.